New SHARE class with Martha Eddy
Thursdays 1:30 – 2:30pm at the Center for Kinesthetic Education, 151 West 30th St. Call to register: (212) 719-0364 x239
Moving On Aerobics Sponsored by St Luke's Roosevelt Comprehensive Breast Center Continuum Cancer Centers of New York
Wednesdays at noon, JCC Manhattan. Very upbeat MOA class.
Gentle Aerobics at Gilda's Club for all cancer survivors
Mondays at 3.15pm, West Houston Street. An on-going class for members of Gilda's club. Membership is free.
SHARE & Latina SHARE
SHARE sponsors periodic Monday lunchtime classes at the Center for Kinesthetic Education, 151 West 30th St. Latina SHARE sponsors seasonal classes (Taller Aerobico Moving On Aerobics) taught bilingually in English and Spanish. Call (212) 719-0364 x239 for more information.
Click here for complete class and event listings.
Join Martha Eddy
at Body Mind Expo
Join us for this pre-conference intensive workshop at Body Mind Expo, this April in California. Approved by ACE. Find out more – or register now!

Designed by exercise physiologist Martha Eddy, CMA, Ed.D., Moving
on Aerobics is a program of dance exercise tailored for women living with breast cancer. Anyone dealing with the fatigue, weakness, weight gain, depression, lymphedema, joint or bone pain, and/or other associations with cancer treatment, or coping with similar physical challenges may benefit.
Led by movement professionals and supported by a company of women months or years beyond their own diagnoses, Moving on Aerobics will leave you feeling energized and ready to seize life fully and completely.
Read more about Moving On Aerobics or…
See a class in action in our Gallery
See what people have to say on our Testimonials page
Read News, Press Releases and Articles
Find out about Our Partners and Sponsors
Intelligent Fitness Supports You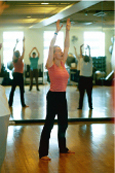 Our diverse staff brings years of experience in dance, the arts, health and wellness to Moving On Aerobics. Read on to find out more about who we are and what we do…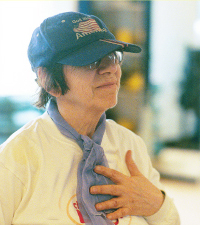 "I feel more physically fit and happier about how my body has reshaped itself…"
Read more testimonials!
October 12, 2006
Martha Eddy was interviewed and filmed teaching an MOA class by Kafi Drexler, the Health and Fitness Reporter for New York 1, the leading television news source devoted entirely to the New York metropolitan area news. The segment was aired throughout the day on Monday, October 9th, 2006.
View the segment >
August 13, 2006
Press Release: Movement Afoot's Free Events in September: Women's Health and Fitness
February 10, 2006
Press Release: Moving On Aerobics Classes in NYC
Click here for more news, press releases and articles
Moving On Aerobics is a Community Outreach Program of Moving On Center
New York Office: Center for Kinesthetic Education • 212.523.7275 • [email protected]
Design: arimoore.com