About MOA | Gallery | Testimonials | Articles | Our Partners and Sponsors
Partners and Sponsors
Help MOA bring healing and renewed vitality to survivors. Find out more about partnerships and donations
Our Partners and Sponsors
Our partnerships and the generous support of our sponsors is what makes Moving On Aerobics work for so many women. Find out more about the people who are helping us on our journey.
SHARE
SHARE is a twenty-nine year old not for profit organization offering survivor-led support to those affected by breast or ovarian cancer to ensure that no one faces breast or ovarian cancer alone. Drawing on their own experiences, cancer survivors help others address the many emotional and practical issues that arise from a cancer diagnosis. SHARE empowers individuals and communities to advocate for increased access to care, improved treatment modalities and quality of and increased research funding. SHARE's services include hotlines in English and Spanish, with capacity in 12 other languages, support groups, wellness programs, educational meetings, and advocacy activities. All programs are free of charge.
www.sharecancersupport.org
St Luke's Roosevelt Comprehensive Breast Center
An important component of the Comprehensive Breast Center at St. Luke's Roosevelt Hospitals are the support services we provide. Accurate diagnosis and treatment of breast cancer are the hallmark of our practice and for which our specialists are renowned. In addition, we provide several programs that treat the mind, body and spirit.
www.slrsurgery.org/divisions/breast.html
JCC Manhattan
Programs for cancer care and support
www.jccmanhattan.org
Winter/Spring 2006 Schedule of Programs (PDF)
Gilda's Club
A community center for cancer survivors and their families in downtown Manhattan
www.gildasclub-nyc.org
Stowe Weekend of Hope
The Stowe Weekend of Hope is an annual forum for education, enlightenment and recreation for cancer patients and survivors with any type of cancer, and their families — the focus is to inspire, educate and celebrate the lives of people living with cancer. This unique event addresses the complex challenges and needs of people with cancer at any stag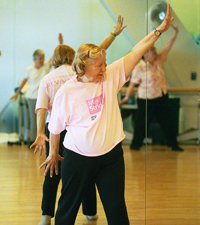 "This class is a powerful fusion of guided meditations, artful dialogue, and rhythmic dancing by extraordinary artists of soul and spirit, which will inspire and uplift you."
Read more!
Moving On Aerobics is a Community Outreach Program of Moving On Center
New York Office: Center for Kinesthetic Education • 212.523.7275 • [email protected]
Design: arimoore.com