Staff
Get in touch to find out more. Here's how.
Moving On Aerobics Staff Around the Country
Faculty
Shannon Bierly
Senior Instructor
Shannon Bierly is an Assistant
Professor of Theatre and Dance at Luther College in Iowa. Prior to joining the Theatre/Dance faculty in the fall of 2003, Shannon taught at the Laban/Bartenieff Institute of Movement Studies in New York City and continued developing methods of somatic movement education as a Pilates and Fitness instructor. During this time she formed Radical Dance Project, a dance theatre ensemble exploring movement as a tool for personal growth, community development, and social change. Shannon is a 1992 graduate of NYU's Tisch School of the Arts and has attended the Somatic Movement Therapy Training led by Martha Eddy, EdD. Shannon is a 2005 Graduate of the Windemere Institute of Healing Arts program and now holds a faculty position with Windemere's Soul Mentoring program. She has been teaching Moving On Aerobics since 2001.
Associate Faculty
Candace A. Carriger (Southern New Jersey)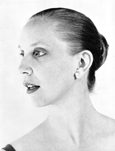 Candace holds an MA in Dance
Education from Teachers College, Columbia University. She trained extensively with The Alvin Ailey American Dance Center and The Martha Graham School of Contemporary Dance. The Dance Lab is one of her newest endeavors, sharing creative dance with young children and their families in South Jersey. Candace is pleased to have been a participant in the early stages of development for Moving-On Aerobics and is herself a breast cancer survivor since 1997. www.thedancelab.com
Shayne Maratea (California and Idaho)

Shane is a Somatic Movement Therapist /
Educator, Pilates Instructor, CranioSacral Therapist and dancer. Her education also includes Body-Mind Centering(TM), Laban/Bartenieff, Authentic Movement, Yoga, Hakomi, and dance improvisation. Through education and embodiment, she is interested in introducing movement as a means for self-empowerment. She believes that peace begins within us and that somatic work helps people make optimal choices on a personal, community, and global level.
Melinda Teutschel (California)
Melinda works as a dance and Pilates instructor,
somatic movement therapist and is a new mother. Her passion for anatomy, kinesiology, body organization, rehabilitation, and expression have led her to become a Certified Personal Trainer (NASM), Certified Pilates Instructor (Turning Point Studios), and now a Somatic Movement Therapist/Educator. She specializes in working educationally and therapeutically with a wide range of people recovering from illness, injury, childbirth, and surgery. She performs as both dancer and musician, and choreographs as well.
New York Moving On Aerobics Staff
Our diverse staff brings years of experience in dance, the arts, health and wellness to Moving On Aerobics. Read on to find out more about who we are and what we do.
Founders of Moving On Aerobics
Martha Eddy, RSMT, CMA, Ed.D
Founder and Director of Moving On Aerobics

Martha Eddy (bilingual, English and Spanish) is the founder and director of the Center for
Kinesthetic Education (CKE) in New York, and a co-founder of and the director of Somatic Studies at Moving On Center in Oakland. She brings to the fields of health, wellness and education her strong belief in the power of movement and somatic-awareness to enhance lives. She believes that any person or group can become better at feeling life's satisfactions, embody peace, and contribute to creating stronger and happier communities if they get moving!
In addition to her work with Moving On Aerobics, Martha maintains a private practice as a Registered Somatic Movement Therapist (RSMT) and directs the SOMAction Movement Therapy Training (SMTT). She holds a doctorate from Teachers College, Columbia University in movement science and education, a Masters of Arts in Applied Physiology and a Bachelors degree in Dance Education and is an internationally known movement specialist in Somatic Movement Education and Therapy. Born and raised in El Barrio, she designed Moving on Aerobics in 1999 in response to a friends request to find ways to creatively use movement and music to help recover vitality, joint mobility, and a stronger immune system, after chemotherapy from breast cancer. Martha drew upon her background in holistic health, fitness and body awareness as well as her 20 years of experience teaching in graduate departments of Kinesiology and dance education (NYU, Columbia, SFSU, New School). In 2004 she became a Certified and Licensed Lebed Method Instructor of Focus on Healing (an exercise program for women with breast cancer during the period right after surgery). Martha lives with her family in New York City. To learn more about her work, visit WellnessCKE.net.
Jan Albert
Jan is an award-winning writer television producer, and community activist who has reported on a number of women's health issues over the years. She was spurred into action after watching two of her closest friends grapple with the diagnosis of breast cancer within one year and learning about the lack of specialized aftercare programs available for this population.
Dr. Allison Stern Rosen
Allison Stern Rosen (also know as Annie) is a psychologist/psychoanalyst with a deep commitment to the needs of cancer survivors. She co-founded the Fertility Preservation Special Interest Group of the American Society of Reproductive Medicine. This group establishes policy, and provides education and research for preserving fertility in cancer patients. She serves on the medical advisory board of Fertile Hope and Sharsheret to help cancer survivors become parents. Allison is the former Director of the non-profit patient group, Resolve NYC, whose mission is to provide education, advocacy and support for patients undergoing infertility. She has written extensively about the psychological impact of medical conditions, most recently: Frozen Dreams: Psychodynamic Dimensions of Infertility Treatment and Assisted Reproduction.
NYC Faculty
Karen Eubanks
Senior Instructor
Karen Eubanks (bilingual, English and Spanish) has conducted group fitness classes for the Department of Parks and Recreation Wake-Up New York Fitness Program for diabetic and obese youth and adults and taught at LaGuardia Community College. A certified New York City Department of Education dance educator, she has served as a teaching artist with New York Ballet Dance Education Department for five years. She has also toured locally and internationally in musical theatre and industrials as a dancer, singer, actress, choreographer. Ms. Eubanks is completing a Masters degree in Dance and Dance Education from Teachers College, Columbia University, and has a degree in Dance from Sarah Lawrence College.
Sherry Greenspan
Senior Instructor
Sherry Greenspan is a New York City-based Movement Educator/Therapist, Pilates, Yoga, and dance instructor as well as a dancer/choreographer/vocalist. She received her Pilates training and certification (mat & equipment) through the Physical Mind Institute in New York City and has studied extensively as well as worked with many well-known Pilates practitioners including Jean-Claude West, Lesley Powell, Doris Pasteleur-Hall, Sue Monti, Anna Schmidt and Irene Dowd. Sherry's Somatic Movement Therapy training through Dr. Martha Eddy's SOMAction Movement Therapy Training (SMTTSM) largely informs her work and she continues her research to acquire the most up to date information regarding neuromuscular reprogramming, movement research/analysis, BodyMind Centering, Pilates and yoga. Sherry has served on the faculties of The Dance Ed Laboratory at the 92nd Street Y, the JCC, and The Center for Kinesthetic Education, Park Avenue Nutrition Spa, Movements Afoot, Mind Your Body, BodyWise and The Roosevelt Island Theater. She maintains a private practice as a Movement Therapist/Educator and as a performing artist.
Bonnie Schiffer (NYC and Long Island)
Senior Instructor
Bonnie Schiffer has been a dancer and performance major at Manhattanville College – following fifteen years of training with Eglevsky Ballet School – with somatic study as a contact improviser. She is strongly influenced by her studies at Movement Research in NYC, La Caldera in Barcelona, Spain, and workshops. Graduate coursework at Teachers College at Columbia University, Moving on Center in California, and Eddy's Somatic Movement Education and Therapy training (SMTT) led to exciting connections to body-mind-spirit. With the ongoing support of mentors like Dr. Martha Eddy and Barbara Forbes (Feldenkrais Practitioner) – she is humbled to take the bold and courageous steps that will spark, nurture, and support more individuals to authentic moving. She is currently a Movement and Pilates trainer, Dance teacher, and Fitness instructor using principles of Somatic Movement Education and Therapy, Feldenkrais, Dharma Yoga, Contact Improvisation, and her personal spiritual practice.
NYC Associate Faculty
Nancy Bruning

Nancy is a fitness consultant through the Parks and Recreation Department of NYC for Wake Up New York, a free fitness program piloted in several public parks in 2003.
Through Friends of Fort Tryon Park she began a related program that is ongoing and year-round and instituted a free summertime yoga program in Fort Tryon Park. These programs are extremely successful and are well-attended by people from all groups of our highly diverse community. She will be coordinating two new fitness programs in Harlem parks in Spring 2006. She is the author of over four dozen books and is obtaining her masters degree in Public Health.
Elizabeth Cordova
Elizabeth (bilingual, English and Spanish) has a MFA in creative writing, has studied Alexander Technique in depth, and is an avid student of experiential and kinesthetic anatomy. She is currently also a student of Martha Eddy's Somatic Movement Therapy Training (SMTT).
Elena Lopez Sans, SME, ATI, AEPY
Elena (bilingual, English and Spanish) is a certified teacher member of the Alexander Technique International, a Registered Somatic Movement Educator,
and a certified teacher of dance and yoga for over 20 years. She also offers private classes, groups and workshops on the Alexander Technique, Dance, and Yoga and their integration in Manhattan and Brooklyn.
Ivis Febus-Sampayo (NYC and Westchester and Putnam County, New York)
Ivis (bilingual, English and Spanish) is a native New Yorker and breast cancer survivor who is the Latina Director for SHARE, an organization that provides self-help to breast and ovarian cancer survivors and their families. Ivis reaches out into New York's Hispanic communities and speaks about her experience with breast cancer and the importance of early detection. She was featured in the Lifetime documentary "Say it, Fight it, Cure it" directed by Lee Grant. In June of 1997 Ms. Febus-Sampayo participated in the first Breast Cancer Survivor Forum held in the White House with Vice President Al Gore and Mrs. Tipper Gore with the goal of bringing a face of survivorship to the Hispanic communities until one day they can end the stigma of cancer. Ivis brings her love of movement and dance to Moving On Aerobics as well as her experience as a Focus On Healing through Dance Instructor.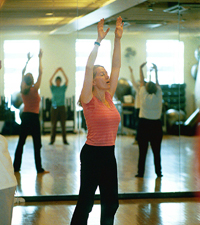 "This class is a powerful fusion of guided meditations, artful dialogue, and rhythmic dancing by extraordinary artists of soul and spirit, which will inspire and uplift you."
Read more!
Moving On Aerobics is a Community Outreach Program of Moving On Center
New York Office: Center for Kinesthetic Education • 212.523.7275 • [email protected]
Design: arimoore.com