About MOA | Gallery | Testimonials | Articles | Our Partners and Sponsors
Articles
News & Press Releases from MOA
October 8, 2007
BodyMind Think Tank: Avon-Walk-a-thon
March/April, 2007
Mamm Magazine: "The Breast Cancer Workout" by Pamela Weintraub (31.3MB PDF)
October 12, 2006
Martha Eddy was interviewed and filmed teaching an MOA class by Kafi Drexler, the Health and Fitness Reporter for New York 1, the leading television news source devoted entirely to the New York metropolitan area news. The segment was aired throughout the day on Monday, October 9th, 2006.
View the segment >
August 13, 2006
Press Release: Movement Afoot's Free Events in September: Women's Health and Fitness
February 10, 2006
Press Release: Moving On Aerobics Classes in NYC
Read below for articles on health issues and wellness, as well as information of interest to those using dance and movement therapies for treatment and recovery.
Effects of Aerobic Exercise Training on Peak Aerobic Capacity, Fatigue, and Psychological Factors During Radiation for Breast Cancer -Rehabilitation Oncology, 2005 by Drouin, Jacqueline S, Armstrong, Holly, Krause, and Shawn.
Moderate intensity aerobic exercise is effective during radiation for breast cancer to increase peak VO2 and therefore aerobic capacity reserves which relates to improved physical function. Changes in peak VO2 are also related to improvements in fatigue and psychological factors during this time.
Move Onward, Press Forward, and Take a Deep Breath: Can Lifestyle Interventions Improve the Quality of Life of Women With Breast Cancer, and How Can We Be Sure? -Wendy Demark-Wahnefried
Although Quality of Life (QOL) may not necessarily be an outcome that is responsive during this point in time (during chemotherapy), other end points, such as those observed by Courneya et al (ie, improved strength, fitness, lean body mass, and chemotherapy completion rates), are certainly important outcomes.
Disability/Condition: Cancer and Exercise – Jacqueline Drouin and Lucinda Pfalzer, Ph.D.
Excerpt: A summary of the literature to date supports moderate levels of aerobic exercise training as an effective method for people with cancer to use in order to manage their disease, its symptoms, and symptoms related to its treatment. Aerobic exercise training has been used safely and effectively for various types of cancer and during different phases of the disease process. Aerobic exercise training can be safely used during chemotherapy and radiation treatments to relieve treatment-related symptoms of fatigue and nausea. Aerobic exercise can be used effectively to promote physical function that may enhance a person's ability to perform self-care, vocational, and social activities. Aerobic exercise has been found to improve psychological well-being and to relieve depression and anxiety. Aerobic exercise training is an effective rehabilitation method for the recovery of function following cancer treatment and during the remission phase. Aerobic exercise can also be used as a palliative measure to maintain function in the event that a person begins to fail. In light of the existing research support, aerobic exercise training should be an integral component in the lifestyle of people fighting through or recovering from cancer.
Journal of American Medical Association
Physical activity after a breast cancer diagnosis may reduce the risk of death from this disease. The greatest benefit occurred in women who performed the equivalent of walking 3 to 5 hours per week at an average pace, with little evidence of a correlation between increased benefit and greater energy expenditure. Women with breast cancer who follow US physical activity recommendations may improve their survival.
Exercise Boosts Breast Cancer Survival by Serena Gordon
American Cancer Society recommends that anyone who isn't currently exercising should try to work up to 30 minutes a day at least five times a week, after checking with their doctor to make sure they can safely exercise. (May, 24 2005)
American Cancer Society information on Aerobic Exercise
"… regular moderate exercise does have health benefits for the cancer patient. In some studies, cancer patients who did moderate exercise reported decreased nausea, decreased fatigue, increased physical tolerance for activity and increased quality of life. Aerobic exercise that increases the heart rate increased red blood cell production and improved the functioning of the heart, lungs and circulation.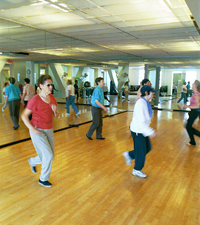 "Moving on Aerobics has heart, clarity, and depth! Experience the joy of dancing to and journeying with an exquisite blend of beautiful music, lyrical melodies, and lively rhythms that move your feet and your soul…"
Read more!
Moving On Aerobics is a Community Outreach Program of Moving On Center
New York Office: Center for Kinesthetic Education • 212.523.7275 • [email protected]
Design: arimoore.com